Modelos locais
Além das modelos oficiais, outras mulheres também tiveram o prazer de se tornar Lara Croft mundo a fora.
Vanessa Demouy
França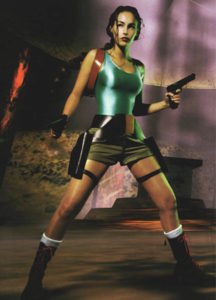 A modelo Vanessa Demouy foi contratada por uma revista francesa para pousar em um editorial de Tomb Raider II. Embora nunca tivesse sido oficialmente contratada pela Eidos, ela é comumente reconhecida como Lara pelos fãs pelo seu curto porém memorável papel como Lara.
---
Ellen Rocche
Brasil
A atriz e modelo brasileira, Ellen Rocche, encarnou Lara Croft em diversas companhas promocionais no Brasil ligadas ao lançamento de Tomb Raider III: The Lost Artifact e também para o lançamento dos filmes originais, estrelados por Angelina Jolie, em 2001 e 2003.
---
Diana Dorow
Alemanha
Diana foi contratada para representar Lara em eventos na Alemanha para promover os jogos The Angel of Darkness, Tomb Raider Legend e Tomb Raider Anniversary.